Led Zeppelin Announce 50th Anniversary Documentary Film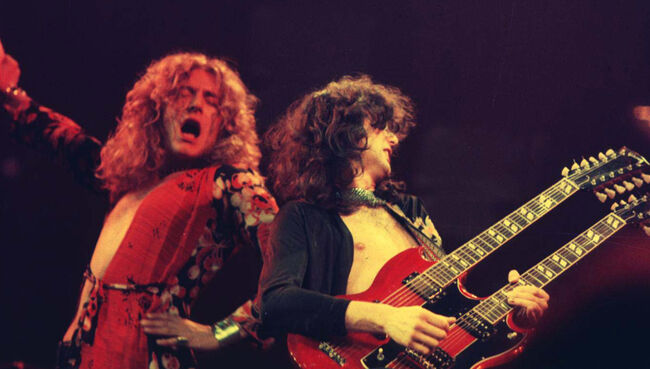 Led Zeppelin founder Jimmy Page is continuing to make good on his promise to provide fans with something new this year in observance of his iconic band's 50th anniversary.
The surviving band members collaborated on the book Led Zeppelin by Led Zeppelin, which came out last fall. And Page has already partnered with Fender Guitars to produce replicas of the Telecaster he used at the end of his Yardbirds' tenure and at the beginning of Led Zeppelin. He also recreated the heavily-modified amplifier he used on Led Zeppelin I.
Now, the band has confirmed that there will be an authorized documentary on its history, directed by award-winning filmmaker Bernard MacMahon.
In a statement, Zeppelin said the still untitled film "traces the journeys of the four members of Led Zeppelin through the music scene of the 1960s, their meeting in the summer of the 1968 for a rehearsal that [would] change the future of rock and culminates in 1970 when their second album knocks The Beatles off the top of the charts and they become the number one band in the world."
The film also includes "rare archival interviews" with late-drummer John Bonham, whose death in 1980 at age 32 prompted the band to break up.
"When I saw everything Bernard had done both visually and sonically on the remarkable achievement that is American Epic, I knew he would be qualified to tell our story," Page said, referencing MacMahon's lauded 2017 documentary on American roots music.
Front man Robert Plant added, "The time was right for us to tell our own story for the first time in our own words, and I think that this film will really bring that story to life."
More details should arrive in the coming months.
Photo: Getty Images

Ken Dashow
Listen to Ken Dashow everyday on Q104.3 New York's Classic Rock and don't forget about Breakfast With The Beatles every Sunday Morning.
Read more